Enjoy light fresh summer breakfasts and organic smoothies all through the year made with a variety of organic fruits, try it with your choice of
Nature's Path
organic granola, light organic honey, a variety of organic yogurt from either
Liberté
,
Organic Meadow
or
Olympic Dairy
and eggs. Replace milk products with organic coconut milk in smoothies or try it with organic soy milk. Add a cup of organic teas or fresh organic orange juice for the perfect way to start your day.
1. Flour free Banana & Blueberry Pancakes
This weekend we went to our country house, 30 min outside of Stockholm. We spent the whole saturday watching season one of the HBO series
"The Wire"
. Sunday morning we decided to take a break from our tv-marathon and made a no-sugar-super-healthy-very-delicious brunch: Flour free Banana & Blueberry Pancakes,
Spelt & Muesli Scones
, Fruit salad, and
Superfruit Smoothie
. Here is the recipe for the pancakes.
Banana & Blueberry Pancakes
Serves 4
3 ripe bananas
6 organic eggs
1 cup / 100 g shredded coconut
1/2 cup / 70 g fresh blueberries or thawed frozen
1 tsp ground cinnamon
coconut oil, for frying
Make the batter: Peel the bananas and mash with a fork. Whip eggs in a bowl and mix it together with the mashed bananas. Add shredded coconut, blueberries and cinnamon and stir to combine.
Fry the pancakes: Heat coconut oil in a frying pan on medium heat. Pour 3 small portions of pancake batter in the pan at the time and fry the pancakes on both sides. Serve with shredded coconut and blueberries and dust with cinnamon.
2. Coconut Blueberry Oatmeal
2 cups of Quaker oatmeal

1 handful of blueberries

1 sliced banana

1 cup lactose-free milk [ I like Lactaid ]

2 sprinkles of unsweetened coconut shavings

1 dash cinnamon

1 dash nutmeg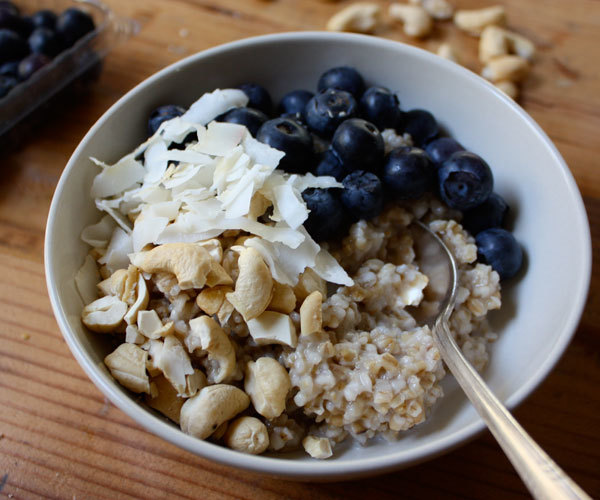 Slice banana & clean blueberries. Cook oats on the stove for about five minutes. Drain oats and add blueberries and bananas. Sprinkle coconut shavings, cinnamon and nutmeg over fruit. I like to let it sit for 2 minutes so fruit dissolves into the oats. Add 1/2 cup of lactose-free milk, almond milk or soy milk. Enjoy with fresh orange juice!
3. Slammin' Sunrise "Green" Smoothie
Ingredients:
2-3 cups organic spinach

1 cup unsweetened vanilla almond milk

1-2 cups frozen strawberries

1 cup frozen blueberries

1/2 frozen banana

2 tablespoons flaxseeds
Preparation Instructions:
Blend until smooth and vortex is created in center of blender (VitaMix!).

Pour and garnish with a fresh strawberry.

Serve and enjoy!!!


8. Grape and flaxseed smoothie
300g black seedless grapes

150g red seedless grapes

1 cup rice milk (or other non-dairy milk)

Honey or agave nectar to taste (I used around 2 tspns of honey)

2 (20ml) tblspns flax seeds, ground

Unsweetened Greek yoghurt
Ensure all ingredients are chilled before using.
Process first 5 ingredients in a blender until smooth (or use stick blender). Pour into two large glasses and stir through a couple of generous tablespoons of Greek yoghurt to thicken.
Directions
18. Double Coconut Pancakes with Vanilla Pear Sauce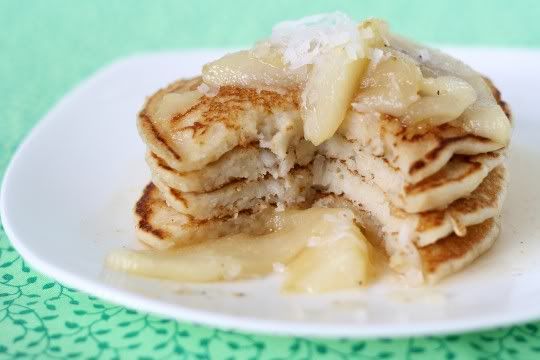 One bite of these luscious, decadent coconutty pancakes and you'll be on cloud nine. But paired with the warm sugary vanilla pear sauce? You'll be in heaven!
I'm not kidding. Take your first bite, and everything else suddenly ceases to exist. This dish makes for an amazing breakfast, served with fresh fruit and tea to complete the meal. And like most pancakes, they're pretty easy to make (well, with the exception of that first one that always is a little questionable). The dreamy sauce is also pretty simple, and it's so quick that you can start this up once the pancakes are done (make sure to keep them warm) and serve everything at once.
The pancakes are a bit dense and can be slightly gummy in the middle if not cooked long enough, so make sure you keep the heat on the lower side so they will cook evenly. That being said, if they're soaked with enough of the pear sauce, the texture gets almost gooey and cake-like.
Although two forms of coconut are used in the batter, it actually ends up being quite mild in the finished product. The pancakes aren't overly sweet, but they do have a nice coconutty flavor with intermittent bits of crunchy flakes.
And the sauce...oh, the sauce. It's to die for. Pears cooked in butter, then simmered in a sugar syrup with lemon juice, vanilla, cardamom, and black pepper. Yes, black pepper! You culinarians will see where this is headed...chai tea! The cardamom and pepper make a great spice pairing to create a warm, exotic flavor which goes so well with the juicy pears. If you want more of a pronounced chai flavor, try doubling the spice amount or adding a little ground ginger.
The sauce is very sugary (perfect on the not-overly-sweet pancakes), but a hint of the salty butter and tangy lemon cut through that perfectly. I wouldn't suggest eating the sauce alone because of how sweet it is, but imagine its pairing possibilities: waffles, French toast, fruit salad, or even a dipping sauce.
Double Coconut Pancakes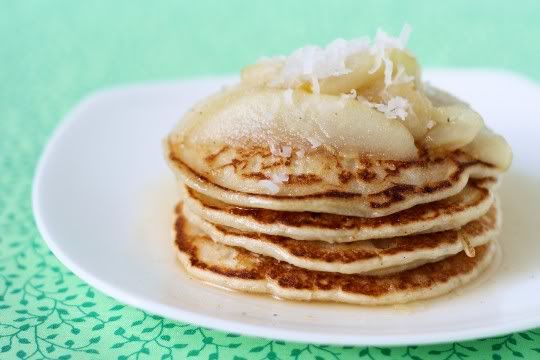 1 1/2 cups all-purpose flour
- 2 tablespoons sugar
- 2 tablespoons flaked sweetened coconut
- 1 teaspoon baking powder
- 1/2 teaspoon salt
- 14 oz. can light coconut milk
- 1 tablespoon vegan butter, melted (such as
Earth Balance Original
)
- Egg replacer for 1 large egg (such as
Bob's Red Mill
)
In a large bowl, combine flour, sugar, coconut, baking powder, and salt. In a separate bowl, combine coconut milk, butter, and egg replacer; stir well. Add coconut milk mixture to flour mixture, stirring until smooth. Pour about 1/4 cup batter per pancake onto a hot nonstick griddle or skillet. Cook 3 minutes or until tops are covered with bubbles and edges look cooked. Turn pancakes over; cook 2 minutes or until bottoms are lightly browned. Makes about 12 pancakes.
Vanilla Pear Sauce
(adapted from
Cooking Light
, December 2006)
1 cup sugar
- 1/2 cup water
- 2 teaspoons vegan butter (such as Earth Balance)
- 2 cups peeled, thinly sliced pear
- 1 tablespoon fresh lemon juice
- 1 teaspoon vanilla extract
- 1/4 teaspoon ground cardamom
- Dash freshly ground black pepper
Combine sugar and water in a small saucepan over medium-high heat. Cook 3 minutes or until sugar dissolves, stirring constantly. Transfer syrup to a small bowl; set aside. Melt butter in pan over medium heat. Add pear to pan; cook 3 minutes or until soft, stirring frequently. Return syrup to pan; stir in fresh lemon juice, vanilla extract, ground cardamom, and freshly ground black pepper. Cook 5 minutes or until sauce is slightly thickened.
Source
http://www.caratandroses.com/foodie-eats/2013/7/13/summer-breakfasts-smoothies